Which are the six entrepreneurial archetypes and who are they ?
The Starter – Intuitive, creative and great initiators, skills as caught the spur of the moment,,
The Professional – Good planners, tend to like the efficiency, holistic orientated,,,
The Serial – Flexible, can often combined feelings & analytical skills when making decisions,,,
The Innovator – Innovative, detail orientated skills, ability to act on their impulses,,,
The Lifestyle – Effective, holistic and often customer orientated businesses,,,
The Workstyle – Emotions as well as mentally driven, the work itself provides the incentives ,,
Read all about them all on https://stefanlindstrom.com/type-of-entrepreneurs/
What is an entrepreneur ?
An entrepreneur is a person who takes an idea for a product/service, considers the risks, identifies opportunities, gathers resources, and plans and implements the idea. It can also be described as an action-orientated person – see the dictionary . More about Entrepreneurship, Entrepreneurlogy,  Entreprenology, (Research Gate)
Does the EPT test answer if I am an entrepreneur or not ?
No, The Entrepreneurial Profile Test (EPT) test gives a picture of which or which of the six entrepreneurial arches you are closest and or the closest to. You have to decide for yourself if you have aptitude and competence, tendency or capacity, ability, or drive or willpower – (see Drivers in the dictionary) enough to run a business.
It is a tough job, but if you are passionate about it, in combination with the insight that YOU have to solve the problems along the way – then entrepreneurship may be right for you.
What is a personality test ?
A personality test is a tool used to assess human personality. Personality testing and assessment refer to techniques designed to measure the characteristic patterns of traits that people exhibit across various situations.
What is a behavioral test ?
Behavioral assessment is a method used in the field of psychology to observe, describe, explain, and maybe even predict behaviors. Behavioral assessment can be useful in clinical, educational, and corporate settings. One way to observe behavior is through the use of a questionnaire. (EPT)  This method of observation usually focuses on behaviors that have already occurred or occurring, i.e, questions in EPT are asked several ways in, like  – I most often say..,  ? – I most often like to..  ? or – I prefer to ..  ?  as well as several questions  –Which of the following words describes you the best?
EPT is more of a behavioral test that focuses on the 6 different archetypes even if it includes both one Personality profile as well an Entrepreneurial profile.
Reasons to take EPT ?
You wish to identify areas of development
You aspire to become an entrepreneur
You will run or start a new business
You want to recruit the right person
You are curious about team-development
You work as a coach and or mentor
 – Do you want to become an accredited user and instructor ? Feel free to  contact us for more info.
Other areas could be:
You want to recruit the right person for the right job. Or you want to improve your team and understanding for different strengths and why people do as do and act as they act. Or you want to see/find your motivators and or development areas, like which are your defining driving forces especially for your way of being and act.
What can I do with the results ?
Or what can I do with the many answers within the profile?
Like all behavior tests, one is supposed to use it with an accredited coach for the tests, EPT  is still free of charge and to try without. In that case, use the result if it feels right for you if you have not chosen to work with an EPT coach as one is supposed to, to get the most out of EPT and your profile. Feel free to contact us
What do the results say ?
You get a picture of You with the help of the test and what type of entrepreneur you are and or most similar to. This in relation to your goals and your thoughts about the type you want to be yourself or the kind you think you want to be – you get information about potential strengths and weaknesses. Weaknesses or as we prefer to see it – your development potential. The test gives you a popular scientific perspective on your character as an entrepreneur. To think about how you work can help you become aware or even more aware of your capacity. It may be more about seeing development potential than looking for weaknesses in their profile.
The Entrepreneurial Profile Test – EPT, builds on research that led to the profiles, and the design of the test is advanced.
Please notice that when you have received your Results after completed the 22 questions ( 21 + 1 focus choices) you also get a link to extra pages and guidelines, at the bottom of your profile.
You can get help and guidelines from us – either by email in different programs or if you prefer one-to-one development over the telephone or Skype or such. i.e., we have MI, Motivational interviewing, and compared with non-directive counseling it is more focused on goal-directed and influences you, as an entrepreneur or just personal development, we can influence to consider changes or improvements through the help of the test and Your personal results and answers. Feel free to contact us with your questions.
How can I get the most out of the test ?
Experience shows that those who have deposited time to reflect on their ability and to work have a deeper understanding of how they work. These also become more effective in their everyday lives. Of course, this is a challenge for many people. Some take help to move forward with this, while others try to do it themselves.
International statistics show that approx
15% do not try
70% try
15% take external help and make lasting positive changes.
Like all behavior tests, as well as personality tests, one is supposed to use it with an accredited coach for the tests. EPT  is still free of charge and to try without. In that case, use the result if it feels right for you if you have not chosen to work with an EPT coach as one is supposed to, to get the most out of EPT and your profile. Feel free to contact us with your questions.
Which profile is best ?
The profile/s describes a personality. A personality can be described as characteristic patterns of emotions, feelings, and thoughts: The EPT test gives you a perspective of thoughts, emotions, situation/s combined with sometimes surprising views and ideas behind what drives you.
It is not possible to say that one is better or worse than the other. Characteristics – is what distinguishes an individual, from one individual from another
Are you the same profile throughout your whole life ?
No, you don't have to be the same – not at all
Some less some more, people evolve or change just like everyone else in and during life.
Several tests in a row?
It has occurred that if the client or test-taker does several tests over a relatively short time the congruence change and one person can therefore get a less adequate answer. This is due to subconscious processes, combined with an unawareness of. It can also lend itself to overfamiliarity and overthinking the questions.                                                      Results show that retake assessment after a break of 6 months will give similar scores. Not only from EPT but from other behavioral tests as well.
I don't think the results are right to what I consider myself or match my self-image?
It can depend on several things, on the one hand, the test is far from the whole truth, (no such test exists).            Partly it can depend on how focused you answered. And the environment around you, most people need to do the test in peace and quiet. And of course, some people are more complex than such a test can describe.
After all, it is based on archetypes which are mergers and explanatory models of how the majority of entrepreneurs work and function, motivates themselves, and hence how often they prioritize, etc
If not another day or try to do it again with another focus. Also, the ability to maintain the selected focus results in the test congruence and also results in the test face validity – more info about EPT and its validation and reliability
For example, if you are young and or a student? Free-time focus can be more appropriate, than work focus. And as we said above, with the ability to maintain the selected focus, it can quickly happen that that one "mentally jumps" between work and free-time. This appears in the individual results as response congruence in % – and is a validation of the qualities in the test. validation and reliability
Can really 21 questions give one fair image of me as an entrepreneur.
No, it does not give a total fair picture of you into the smallest details, no such tests exist. But yes, with a pretty high probability it is possible to decide which of the six archetypes you are or lie closest to. Each question also has 4 different options leading to 84 positions or standpoints. There each is set opposite and each other in contrast to each other. validation and reliability   Also notice that your personality profile is in separate text from your entrepreneur profile. And in its results and in congruence stated in % with your answers.
What does response congruence % mean?
What is congruence and what does it mean?
This is the match between your answers among themselves. Other words that can describe congruence is, conformity, uniformity, concord, See more examples in the dictionary. Therefore, your answers give a probability – a likelihood of Your personal response in a percentage. The concept of congruence is generally believed to refer to personal awareness and understanding of oneself as well as one's ability to communicate that truthfully.
Like all self-estimated and or self-assessed tests, they require that the person wants and can report truthfully about oneself.  Not so many tests that are based on or partly based on self estimates or sometimes called self-assessed –  measures congruence. But EPT measures response congruence, in %, which is rounded off in the nearest five or ten numbers. i.e., 60%, 70%, 85%, etc. Etc.
Several tests refer to a Cronbach Alpha or Tau-equivalent reliability that is a single-administration test score reliability (i.e., the reliability of persons over items holding occasion fixed coefficient, commonly referred [1][2][3] to as Cronbach's alpha or coefficient alpha is the most famous and commonly used among reliability coefficients.
But recent studies recommend not using it unconditionally.[4][5][6][7]  Reliability coefficients based on structural equation modeling are often recommended as its alternative.
This coefficient  Cronbach's alpha measures whether questions belonging to the same scale produce similar scores and so does EPT´s response congruence with the difference if the same questions over several different contexts still from the responder is given the same answer as previous measures (inputs) and therefore the same accuracy.
Cronbach's alpha measures the reliability of the question itself, but cannot determine the reliability of the person answering the question. EPT response congruence – measures more than that. When it comes to EPT and its reliability, read more in EPT and its validation and reliability
I got several different archetypes, which are equally "strong." What does that mean ?
Yes, this can happen and is often within personally and or in behavioural profile tests called a split wheel.
Which in itself can depend on a variety of things. The most common situation in a split wheel is that you can get two. One is then a so-called related role, and this can be because you are mentally "on the road" or, as we say mentally is on the way somewhere – reorientation. Like we wrote above in – Reason to take The Entrepreneurial Profile Test – EPT.
It can also be related to – In or out of a new or unique situation, role, place of residence, geographical, other country and more for example. Another word is a breaking point, or just breaking points as below.  ©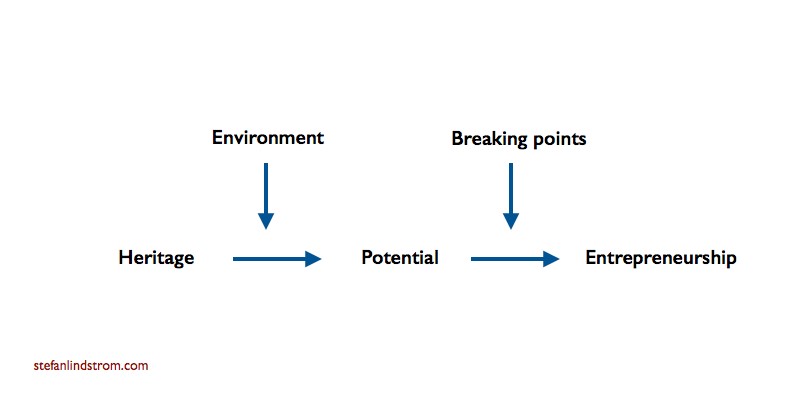 Have you got even more profiles in your split wheel! You may want to retake the test and reconsider to shift focus (Work / Free-time)
Can you trust the test ?
Can one trust the test?
EPT and its  validation and reliability
Yes ! The Entrepreneurial Profile Test measures how close the test subjects are the six different archetypes, just at the time of measurement. But many factors come into play like how concentrated you are, if you have a lot to think about, like other things in life – That said it can also be a big reason why you do the test now. Additional and more factors can play a role in the rest– like how you feel physically and or mentally.
Yes ! There are apparent and clear differences between them archetypes but there are also several
common denominators and factors. It is also possible for a person to enter and go in and out into the different archetypes during different stages of development.
How many have done the test ?
In total, the test has been as the Number of tests: shows below in the lower-left corner of this page.  And on the pre-starting page (front page) , Do like …… others 
EPT- EntrepreneurProfileTest – is developed by Stefan Lindstrom (Entreprenologist) and Hans-Olle Frummerin, (Licensed psychologist). EPT is based on research about entrepreneurs like Stefan Lindstrom, who has both observed, researched, and contributed to. 
More about research within Entreprenology  and behavioral science – very latest here below